Contact information
Kwaplasstraat 70, Torhout, Belgium
Fax: +32 50217190
Mobile: +32 494703730
E-mail: infokwaplas@gmail.com
For daily updates follow us on Facebook:
https://www.facebook.com/Stal-vd-Kwaplas-401517537247750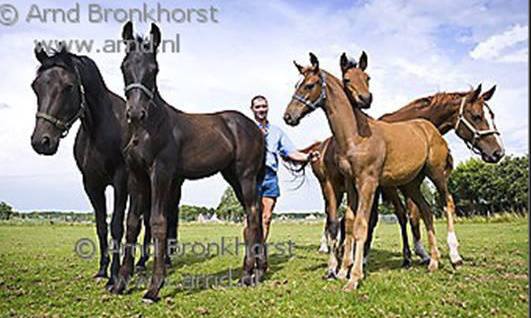 Our dressage breeding is one of the hobby that we like in our piggery set the bar high. A less good horse eats as much as a well so you better have. Good horse run In our youth we were LRV riders. We drove along at Torhout in eight Z.A. When we married, and children were moved by driving to the background and the mares were covered.

The young mares stay home to grow up, the young studs go for two years to Wenny Vanhee where they grow up in a group of six to eight stallions. In the spring of the year they are taught them and prepared to be sold. 3 years We started with descendants of the "Richter" - and "van 't Peerd Hassle line" of the known Torhoutse stallion owner Daniel Vereenooghe.

Of this last line, we have a 2 year old gelding over so so runs this line.

From the "richter line" we have our foundation mare 'Perla vd Kwaplas' bred (v.Irish Taxi XX). This mare was 3x nationally selected for the exterior inspection where they always ran in the 1st half.

Our largest tribe is that of Jankonda II '91 this is and Rubenstein - Furioso II mare from the Blankenese tribe. This goes back to 1883 many international celebrities and approved stallions came from this.

& Siegerhengst 'Weltraum' & Swiss approved 'Freischütz' & Stallion 'Internatinal' in Austria And Weser-Ems Champion 'Insider' vd Fam. Vorwerk & Dressage Stallion 'indonese "(v. Inshallax) & Rosenköning & And many others Jankonda II is also on top and internationally. Conceived in Germany, born in the Netherlands and now living in Belgium. Her mother Blütezeit 5x row staatsprämiestute. Jankonda II won regional, provincial and national titles exterior.

At the age of 3, she was 3rd National BWP and day champion on the match day breeding New Vliet. As a four year old, she was a national champion as well as exterior National Champion of the 4 year old dressage horses.
Latest news
Guestbook
veulens

Enkele van de hengstenveulens heb ik zien lopen in het Koolhof (2017 en 2018 - event vrijspringen) Proficiat! Daardoor heb ik ook dit jaar voor mijn merrie Spielberg gekozen , hopelijk met evenveel succes !
De Meyer Marijke
Proficiat met jullie website Kwaplas

Mooi ineen gestoken, ik ben precies eerst in je gastenboek, een hele eer.
Dieter Devisscher
Sign our Guestbook, we'd love to hear from you!